Blind Visionaries: The Seeing with Photography Collective & Daniel Kelly Trio

See and hear art in a whole new way through the lens of blind photographers and live music inspired by their stunning and thought-proving images.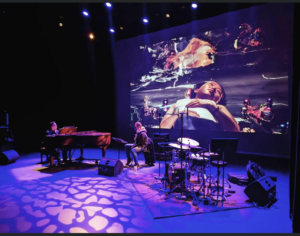 Blind Visionaries is a multi-media performance featuring video projections of stunning photos created by the blind and visually impaired members of The Seeing with Photography Collective. In addition, the presentation includes audio interviews of the photographers speaking about their experiences of living with blindness. The event also includes a live performance featuring original music composed by Daniel Kelly and performed by the Daniel Kelly Trio.
Daniel's music compositions aim to capture the emotional quality of the photos. The photos, created by photographers who originally had sight but gradually lost it through illness, were created by extending the camera's exposure for several minutes rather than a fraction of a second. First, the camera is placed on a tripod, and the subject is framed within the shot. Then, the lights are turned out, the exposure is opened, and the photographer uses flashlights to light the person being photographed. Finally, what is illuminated by the flashlights is exposed to the film. So, if a person's head is lit and she moves her head, and it is lit again, the photo will reveal two heads in one image. This light painting method of making photos creates evocative, surreal portraits. Photography from the Seeing with Photography Collective has been exhibited worldwide.
Audience members will create a new photo with members of the Collective that is projected on the screen during the concert.